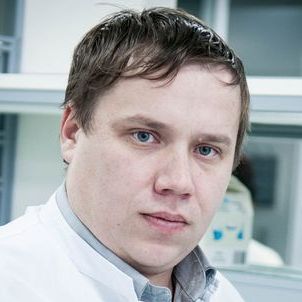 Alexandr
Shevtsov
Candidate of Biological Sciences
The expert in the area of bacteria and viruses molecular genetics. The author of more than 30 scientific works, has copyright certificates on genetic identification of microorganisms.
ORCID ID – 0000-0002-0307-1053
Scopus ID – 57201604158
Projects
Research directions
Development of PCR kits for diagnostics of  human and animal infectious diseases;
Molecular-genetic analysis of causative agents for the epidemiological monitoring;
Full-genome sequencing of bacteria and viruses, detection of genetic variation;
Identification of microorganisms on the basis of the nucleotide sequence's analysis.
Innovative developments
Development of PCR kits for determination and identification of campylobacter;
Development of PCR kits for identification of brucella;
Studying of  brucella genotypes allocation in Kazakhstan.
Core publications
Syzdykova L.R., Binke S., Keyer V.V., Shevtsov A.B., Zaripov M.M., Zhylkibayev A.A., Ramankulov Y.M., Shustov A.V.
Fluorescent tagging the NS1 protein in yellow fever virus: Replication-capable viruses which produce the secretory GFP-NS1 fusion protein//Virus Research, 2021
Zholdybayeva E., Kozhahmetova S., Tarlykov P., Atavliyeva S., Mukhtarova K., Syzdykov T., Khasenov R., Shevtsov A., Amirgazin A., Daniyarov A., Ramankulov Y.
Analysis of bacteroides fragilis clinical strains isolated in Kazakhstan//Microbiology Resource Announcements, 2021
Nurtaza A., Magzumova G., Yessimseitova A., Karimova V., Shevtsov A., Silayev D., Lutsay V., Ramankulov Y., Kakimzhanova A.
Micropropagation of the endangered species Malus niedzwetzkyana for conservation biodiversity in Kazakhstan//In vitro cellular & developmental biology-plant, 2021
Shevtsov V., Kairzhanova A., Shevtsov A., Shustov A., Kalendar R., Abdrakhmanov S., Lukhnova L., Izbanova U., Ramankulov Y., Vergnaud G.
Genetic diversity of Francisella tularensis subsp. holarctica in Kazakhstan// Plos Neglected Tropical Diseases, 2021
Kakimzhanova, A., Dyussembekova, D., Nurtaza, A., Yessimseitova, A., Shevtsov, A., Lutsay, V., Ramankulov, Y., Kabieva, S.
An Efficient Micropropagation System for the Vulnerable Wild Apple Species, Malus sieversii, and Confirmation of Its Genetic Homogeneity // Erwerbs-Obstbau. - 2022.
Amirgazin A., Shevtsov A., Karibayev T., Berdikulov M., Kozhakhmetova T., Syzdykova L., Ramankulov Ye., Shustov A.
Highly pathogenic avian influenza virus of the A/H5N8 subtype, clade 2.3.4.4b, caused outbreaks in Kazakhstan in 2020 // PeerJ. - 2022
Ryskeldina A., Iskakova I., Sarina N., Shevtsov A., Syzdykova L., Shustov A., Ramankulov Ye., Kuibagarov M.
Obtaining and Use of the Recombinant Bovine Pregnancy-Associated Glycoprotein 1 // Advances in Animal and Veterinary Sciences. - 2022
Kuibagarov, M., Zhylkibayev, A., Kamalova, D., Ryskeldina, A., Yerzhanova, N., Ramankulov, Y., Shevtsov, A., Angelos, J. А.
Genetic Diversity of Pilin From Kazakh Isolates of Moraxella bovoculi // Advances in Animal and Veterinary Sciences. - 2022