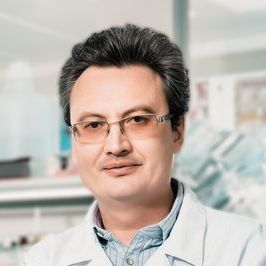 Alexander
Shustov
Candidate of Biology Sciences
Research Associate, Department of Microbiology, University of Alabama (USA), Department of Microbiology and Immunology, Medical Department of the University of Texas (USA);
Research scientist, State Research Center of Virology and Biotechnology
Fields of professional interest: genetic engineering of microorganisms, virology, bioengineering of expression systems for use in mammalian cells or in bacteria, development of processes for purification of recombinant proteins. Over the last 5 years supervised projects on the development of expression systems based on autonomously replicating viral genomes, development of novel antigens in the form of virus-like particles.
ORCID ID – 0000-0001-9880-9382
Scopus ID – 57211989685
Research directions
Development of technology for production of recombinant proteins with pharmacological activity (erythropoietin, antihemophilic factor VIII) in cultured mammalian cells using viral replicons as vectors;
Bioengineering of new antigens based on virus-like particles;
Production of recombinant antigens and enzymes in bacterial expression systems.
Innovative developments
Core publications
Syzdykova L.R., Binke S., Keyer V.V., Shevtsov A.B., Zaripov M.M., Zhylkibayev A.A., Ramankulov Y.M., Shustov A.V.
Fluorescent tagging the NS1 protein in yellow fever virus: Replication-capable viruses which produce the secretory GFP-NS1 fusion protein//Virus Research, 2021
Shevtsov V., Kairzhanova A., Shevtsov A., Shustov A., Kalendar R., Abdrakhmanov S., Lukhnova L., Izbanova U., Ramankulov Y., Vergnaud G.
Genetic diversity of Francisella tularensis subsp. holarctica in Kazakhstan// Plos Neglected Tropical Diseases, 2021
Kalendar R., Shustov A., Akhmetollayev I. Kairov U.
Designing allele-specific competitive-extension PCR-based assays for high-throughput genotyping and gene characterization // Frontiers in Molecular Biosciences. - 2022.
Amirgazin A., Shevtsov A., Karibayev T., Berdikulov M., Kozhakhmetova T., Syzdykova L., Ramankulov Ye., Shustov A.
Highly pathogenic avian influenza virus of the A/H5N8 subtype, clade 2.3.4.4b, caused outbreaks in Kazakhstan in 2020 // PeerJ. - 2022.
Keyer, V.,Syzdykova, L., Zauatbayeva, G., Zhulikeyeva, A., Ramanculov, Y., Shustov, A., Shulgau, Z.
Tilorone and Cridanimod Protect Mice and Show Antiviral Activity in Rats despite Absence of the Interferon-Inducing Effect in Rats // Pharmaceuticals
Ryskeldina A., Iskakova I., Sarina N., Shevtsov A., Syzdykova L., Shustov A., Ramankulov Ye., Kuibagarov M.
Obtaining and Use of the Recombinant Bovine Pregnancy-Associated Glycoprotein 1 // Advances in Animal and Veterinary Sciences. – 2022
Syzdykova, L., Zauatbayeva, G., Keyer, V., Ramanculov, Y., Arsienko, R., Shustov, A.
Process for production of chimeric antigen receptor-transducing lentivirus particles using infection with replicon particles containing self-replicating RNAs // Biochemical Engineering Journal. - 2023
Kuibagarov, M., Makhamed, R., Zhylkibayev, A., Berdikulov, M., Abdrakhmanov, S., Kozhabayev, M., Akhmetollayev, I., Mukanov, K., Ryskeldina, A., Ramankulov, Y., Shustov, A., Bauer, C
Theileria and Babesia infection in cattle - First molecular survey in Kazakhstan// Ticks and tick-borne diseases. - 2023