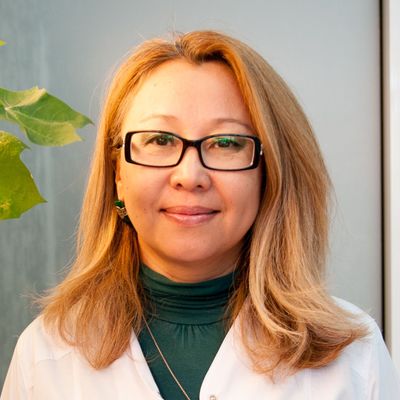 Shuga
Manabayeva
PhD in Biological Sciences
Specialist in the field of plant genetics, genetic engineering, and biotechnology. Recipient of prestigious international research programs, including InWEnt, Germany (2003-2004), and DAAD, Germany (2006). Also awarded a research grant from the Ministry of Education and Science of the Republic of Kazakhstan for research at Texas A&M University, USA (2007-2008). Worked as a postdoctoral researcher in the Department of Plant Pathology and Microbiology at Texas A&M University, USA, from 2009 to 2010. In 2018, she was awarded the breast badge "For Merits in the Development of Science in the Republic of Kazakhstan." Author of over 80 scientific publications with a Hirsch index of 5 (Scopus). Over the past 5 years, she has led projects in the field of genome-edited plant creation using CRISPR/Cas9 technology, genetically modified plants, and the development of transient expression systems for recombinant proteins in plants.
ORCID ID – 0000-0001-7884-1713
Scopus ID – 55615915000
Research directions
Plant genetic engineering;
Creation of genome-edited plants using Crispr/Cas9 technology;
Generation of transgenic plants using A. tumefaciens;
Production of recombinant proteins in plants;
Establishment of a gene bank and in vitro collection of rare and endangered plant species;
DNA barcoding and molecular phylogenetic studies of rare, endemic, and relict species in Kazakhstan.
Innovative developments
A technology for the transient production of recombinant proteins G-CSF, GM-CSF of human, and GP51 VlKRS in plants in planta has been developed using recombinant constructs based on the Tomato Bushy Stunt Virus genome. The developed technology allows for the production of highly purified recombinant proteins, confirming its potential for use in viral systems based on the TBStV genome for gene expression of various recombinant proteins in plants.
Transgenic cotton plants with the PAT gene have been obtained, characterized by increased resistance to phosphinothricin.
Genome-edited potato plants have been created, with tubers predominantly containing amylopectin.
Core publications
Abeuova L., Kali B., Tussipkan D., Akhmetollayeva A., Ramankulov Y., Manabayeva Sh.
CRISPR/Cas9-mediated multiple guide RNA-targeted mutagenesis in the potato // Transgenic Research (2023). https://doi.org/10.1007/s11248-023-00356-8
Sarsen A, Saginova M, Akishev Z, Aktayeva S, Manabayeva S, Khassenov B.
Molecular phylogenetic analysis of Tulipa (Liliaceae) from Aksu-Zhabagly Nature Reserve. Plant Science Today. 2023; 10(2): 302–309. https://doi.org/10.14719/pst.2153
Amirgazin A., Shevtsov V., Tussipkan D., Lutsay V., Ramankulov Y., Shevtsov A., Manabayeva S.
Characterization of the complete mitochondrial genome of the Indian crested porcupine (Hystrix indica) // Animal Gene. ‒ 2023. ‒ V. 27. ‒ P. 200144. https://doi.org/10.1016/j.angen.2022.200144
Tussipkan Dilnur and Manabayeva Shuga A.
Alfalfa (Medicago sativa L.): Genotypic diversity and transgenic alfalfa for phytoremediation // Frontiers in Environmental Science. – 2022, V. 10, p.1-13. doi.org/10.3389/fpls.2021.747476 Q1, IF-4,581
Tussipkan Dilnur and Manabayeva Shuga A.
Employing CRISPR/Cas technology for the improvement of potato and other tuber crops // Frontiers in Plant Science. – 2021, V. 12, p.1-16. doi.org/10.3389/fenvs.2022.828257, IF= 5.753
Abeuova L.S., Kali B.R., Rakhimzhanova A.O., Bekkuzhina S.S., Manabayeva Sh.A.
High frequency direct shoot regeneration from Kazakh commercial potato cultivars // PeerJ. - 2020. DOI 10.7717/peerj.9447. IF 2.38.
Zhumabek A.T., Rakhimzhanova A.O., Bekkuzhina S.S., Ramankulov Ye.M. and Manabayeva Sh.A.
Somatic embryogenesis and plant regeneration from upland switchgrass cultivars // Research on Crops. - 2020. - Vol. 21(2), №34. - P.217-222. doi.org/10.31830/2348-7542.2020.059 IF=1.06
Zhumabek A.T., Abeuova L.S., Mukhametzhanov N.S., Scholthof H.B., Ramanculov Е.M., Manabayeva S.A.
Transient expression of the bovine leukemia virus envelope glycoprotein gp51 in plants by a recombinant TBSV vector //Journal of Virological Methods. 2018. – Vol. 255. – P. 1-7. https://doi.org/10.1016/j.jviromet.2018.01.016