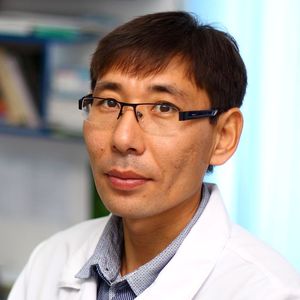 Bekbolat
Khassenov
Candidate of Chemistry Sciences
Mr Khassenov specializes in the field of molecular genetics of microorganisms, protein mass-spectrometry and proteomics, recombinant DNA technology. He is an author of more than 30 scientific works, has 3 Author's Certificates on recombinant strains of microorganisms producing protein with enzymic and antigenic specificity. In 2000 was acknowledged by the Ministry of Education and Science of Kazakhstan for contribution to development of education system of the Republic of Kazakhstan and in 2003 – by National Academy of Science (NAS) of the Republic of Kazakhstan for active participation in NAS activities. Researcher at the laboratory of DNA repair, L'Institut Gustave Roussy, CNRS (France, 2007-2009).
ORCID ID – 0000-0003-4572-948X
Scopus ID – 36096620800
Projects
Research directions
Development of genetically engineered schemes for end production processing: proteins, recombinant microorganisms, transgenic plants;
Development of processing technology for transgenic plants expressing medical-use genes;
Derivation of recombinant proteins with enzymic and antigenic specificity in bacteria and yeasts;
Studying the mechanisms for DNA repair in prokaryotic and eukaryotic organisms.
Innovative developments
Genetic design and strain, producing protein of p.24 leukemia virus in cattle in a bacterial culture;
Highly active taq-pol recombinant polymerase.
Core publications
Aktayeva S., Baltin K., Kiribayeva A., Akishev Z., Silayev D., Ramankulov Ye., Khassenov B.
Isolation of Bacillus sp. A5.3 strain with keratinolytic activity // Biology. - 2022.
Kiribayeva A.K., Silayev D.V., Tursunbekova A.E., Ramankulov Y.M., Khassenov B.B.
Cloning, purification and study of the biochemical properties of a-amylase from Bacillus licheniformis T5 strain // Herald of Science of S. Seifullin Kazakh Agro Technical University. - 2022
Kiribayeva, A., Silayev , D., Abdullayeva , A., Ramankulov , Y., & Khassenov , B.
STUDY OF THE BIOCHEMICAL CHARACTERISTICS OF GLYCOSYLATED RECOMBINANT XYLANASE // Eurasian Journal of Applied Biotechnology. - 2022
Mussakhmetov, A., Baltin , K., & Khassenov , B.
Production of polyclonal antibodies against the DJ-1 protein associated with Parkinson's disease // Eurasian Journal of Applied Biotechnology. - 2022
Sarsen, A., Saginova, M., Aktayeva, S., Akishev, Z., Kiribayeva, A., Manabayeva, S., Mussakhmetov, A., Kakimzhanova, A., Khapilina, O., Akhmetollayev, I., & Khassenov, B.
DNA barcoding of rare and endangered plant species of the Republic of Kazakhstan // Eurasian Journal of Applied Biotechnology.-2022
Mussakhmetov, A., Utepbergenov , D., Khassenov, B.
High affinity of recombinant DJ-1 (PARK7) protein to Ni-NTA. // Eurasian Journal of Applied Biotechnology. - 2022