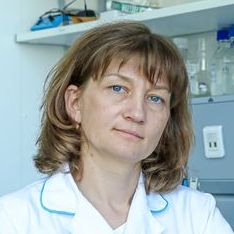 Elena
Zholdybayeva
Candidate of biological sciences
A specialist in the field of molecular biology of viruses, population genetics and genomic research. Author of over 40 research articles, has 5 certificates of authorship for the development of diagnostic test kits based on PCR. L. Orbeli scholarship recipient, Russia (2001). Awarded with a Diploma of MES for contributions to the science of Kazakhstan (2009). Winner of MES and the World Bank "Technology Commercialization" project (2011).
ORCID ID – 0000-0002-9677-008X
Scopus ID – 55640278400
Projects
Research directions
Development of test kits for the diagnosis of socially significant human diseases;
Investigation of genetic predisposition to multifactorial human diseases (breast cancer, cardiovascular diseases, metabolic diseases);
Development of highly-effective test kits for diagnosis of infectious animal diseases;
Genotyping of bacteria and viruses;
Epidemiological and epizootological monitoring of functional characteristics and variability of genomes of human and animal infectious diseases.
Innovative developments
A kit for identification of histocompatibility complex based on DNA sequencing methods for use in clinical transplantology;
Diagnostic panel for estimation of individual drug dosage that reduces the risk of thrombosis;
Prototypes of real time PCR test kits for diagnosis of hepatitis B, C and G, Epstein-Barr virus, polyomavirus, cytomegalovirus; genotyping of human papilloma virus of high oncogenic risk;
A kit for comprehensive assessment of human predisposition to the development of gastritis, ulcer and stomach cancer based on the identification of virulence factors of Helicobacter pyloriand mutation of interleukin-1 beta encoding gene
Core publications
Zholdybayeva E, Kozhahmetova S, Tarlykov P, Atavliyeva S, Mukhtarova K, Syzdykov T, Khasenov R, Shevtsov A, Amirgazin A, Daniyarov A, Ramankulov Y.

Analysis of Bacteroides fragilis Clinical Strains Isolated in Kazakhstan. //icrobiol Resour Announc. 2021 Feb 4;10(5):e01311-20. doi: 10.1128/MRA.01311-20.icrobiol Resour Announc. 2021 Feb 4;10(5):e01311-20. doi: 10.1128/MRA.01311-20.
Kozhakhmetova S., Zholdybayeva E., Tarlykov P., Atavliyeva S., Syzdykov T., Daniyarov A., Mukhtarova K., Ramankulov Y.
Determinants of resistance in Bacteroides fragilis strain BFR_KZ01 isolated from a patient with peritonitis in Kazakhstan // Journal of Global Antimicrobial Resistance, 2021, 25, page 1–4 pp. doi.org/10.1016/j.jgar.2021.02.022. Scopus: CiteScore – 5.6, процентиль -55.
Barmak SM, Sinyavskiy YA, Berdygaliev AB, Sharmanov TS, Savitskaya IS, Sultankulova GT, Zholdybayeva EV.
Development and Evaluation of Alternative Methods to Identify the Three Most Common Serotypes of Salmonella enterica Causing Clinical Infections in Kazakhstan.// Microorganisms, 2021
Aitkulova A., Mukhtarova K., Zholdybayeva E., Medetov Ye., Dzhamantayeva B., Kassymbek K., Utupov T., Akhmetollayev I., Akshulakov S., Kulmambetova G., Ramankulov Ye.
Activated leukocyte cell adhesion molecule/cluster of differentiation 166 rs10933819 (G>A) variant is associated with familial intracranial aneurysms // Biomedical Reports. - 2022.
Mukhtarova, K.,Zholdybayeva, E., Utupov, T., Ramankulov, Y.
Associations of Reported Genetic Risk Loci with Sporadic Brain Arteriovenous Malformations: Meta-analysis // Journal of Molecular Neuroscience. - 2022
Romadanova, N., Tolegen, A., Kushnarenko, S., Zholdybayeva, E.
Effect of Plant Preservative MixtureTM on Endophytic Bacteria Eradication from In Vitro-Grown Apple Shoots // Plants. - 2022
Mukhtarova K., Zholdybayeva E., Kairov U. Akhmetollayev I., Nurimanov C., Kulmirzayev M., Makhambetov Y., Ramankulov Ye.
Whole-Exome Sequencing Reveals Pathogenic SIRT1 Variant in Brain Arteriovenous Malformation: A Case Report // Genes. - 2022 13(10), P. 1689
Nurimanov, C., Babi, A., Menlibayeva, K., Makhambetov, Y., Kaliyev, A., Zholdybayeva, E., Akshulakov, S.
Effect of Targeted Embolization on Seizure Outcomes in Patients with Brain Arteriovenous Malformations // Diagnostics. -2023